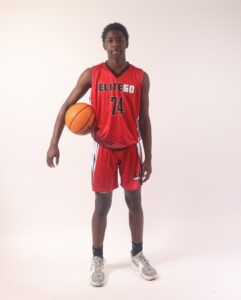 Name

Amare Jackson

Position

Small Forward

Class

2027

Height

6'5"

City

Atlanta

State

GA
ELITE60 MIDDLE SCHOOL SHOWCASE
August 20, 2022

Amare Jackson | SF | 2027 (GA)
LIKELY HIGH SCHOOL: WESTLAKE
Scouting Report by Tony Bruton of BucketReel
Jackson had one of the best motors in attendance. At times, it felt like he was defending multiple players at the same time. His activity allowed him to come away with a ton of steals, blocks and second chance points. He started the day out with multiple dunks in his first game and made a living getting to the basket from the perimeter.
Scouting Report by Keith Agran of On the Radar
Fits the Westlake mold to a 'T' as he was among the more impressive overall athletes on hand getting up and down the floor with both finesse and force and finishing at the basket with flair and efficiency, had one of the few in-game dunks at 6-4 off a break where he had one thing in mind and flushed it hard, around the basket appears his strength at the moment but there was good movement facing the basket further out and an improved handle and work on the 15+ jump-shooting range will be the next big steps.