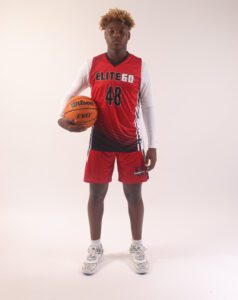 Name

Cameron Pritchett

Position

Combo Guard

Class

2027

Height

6'3"

City

Mobile

State

AL
Elite60 Middle School Showcase
August 20, 2022
Cameron Pritchett Scouting Report by Keith Agran of On the Radar
Cameron played some for both Alabama Fusion and newly formed J Smooth Celtics this spring and summer.  Pritchett was a physical mismatch for most everyone he went against as he was able to bull past most and finesse past less attuned and fleet big guys.  Cameron is a speed train in transition and a good defender both bodying up and blocking shots. His next step will be getting the jumper to become more of a weapon from 15 feet and beyond.
Cameron Pritchett Scouting Report by Robert Drew of Hoop Dreams
Cameron was arguably the most active & effective prospect at the Elite 60. Whether diving for loose balls, hustling for offensive rebounds, or running his lane effectively, Pritchett's motor was through the roof as he maneuvered all over the floor. Very aggressive attacking off of the bounce with a developed handle from the past events we've seen him in action. Cameron is a high level rebounder on both ends of the floor and works even harder offensively to carve out space on the interior for baskets. He possesses the combination of size and speed you'd expect from a defensive end using it to compliment his physical downhill style of play. Very exciting to watch.