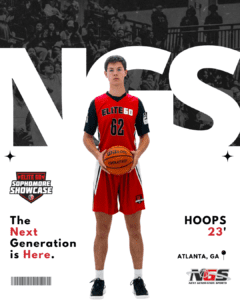 Name

Charlie Gersmehl

Position

Power Forward

Class

2026

Height

6'7"

City

Cumming

State

GA
Charlie Gersmehl 2026 – 6'7′ PF – Gainesville High School (GA)
Elite60 Sophomore Showcase
September 3, 2023
Scouting Report by Bilal Benjamin of 1st Love Basketball
Gersmehl was easily one of the most patient forwards in attendance when it came to putting the basketball on the floor and making a play. Gersmehl often operated out of the triple threat position and made it tough for guys that pressed up too much on him to stay in front of him. He put guys on his hip well just by using one hard dribble before finishing around the basket with a nice soft touch hook that was his go to. He also did a good job at reading opening before putting the ball on the floor and when he didn't have anything, he didn't force action and made necessary passes. Gersmehl was also a big offensive rebounder that capitalized on second chance opportunities. Defensively, Gersmehl wasn't the highest jumper that blocked shots or changed them but he did so well whenever he was able to get his hands on the ball.
Scouting Report by Michael Cyprien of Ryze Hoops
6-foot-7 forward Charlie Gersmehl was effective with limited touches. He showed some perimeter skill with some tough downhill drives and the ability to drive closeouts and settle into a nice mid-range jump shot. I also liked his toughness at the rim, finishing baskets through contact. He also does a good job away from the ball timing his basket cuts, spacing, and relocating in reference to the ball.
---
Elite60 Freshman Showcase
September 24, 2022
Charlie was working the paint all day long at camp. He was strong on the glass on both ends and offensively put up points with put backs. He is fundamentally sound big that possesses multiple ways to score over opponents on the low block. There was a stretch during one game where his teammates were feeding him the rock to run the offense through him, and great things were happening for the squad. He is a post that can score with his back to the basket, make the right reads and passes out of double teams, and even showed his ability to face up and attempt to space the floor with his perimeter jumper. He showed his ability to carry his squad offensively, and if he continues on the trajectory that he is on, he has the potential to develop into a player that opposing teams will struggle trying to match-up against and game-plan for.  He was strong on the glass on both ends and offensively put up points with put backs. by Terry J. Drake of Prep Hoops

---