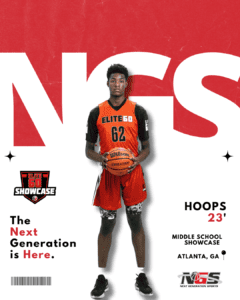 Name

Erick Dampier Jr.

Position

Power Forward

Class

2028

Height

6'8"

City

Madison

State

MS
Erick Dampier Jr | 6'8" HP (MS) 2028
Elite60 Middle School Showcase
August 19, 2023
Scouting Report by Bilal Benjamin of 1st Love Basketball
Anytime you're regarded as #1, there's a bullseye on you every time you lace them up! Erick Dampier Jr doesn't allow the rankings to get to his head. He's extremely humble, plays the right way and has a huge impact on the game offensively and defensively. Dampier Jr's most underrated trait is that he gets other players better.

Scouting Report by Keith Agran of On the Radar
Major noticeable improvement from when I saw him at the same NGS camp a year ago, leaner and quicker his footwork has come a long way and already around 6-8 or so that kind of size as an 8th-grader was obviously devastating, better off the deck as well with several rim-rattling dunks and just the overall movement and offensive awareness took a huge leap, son of the former NBA player Erick Dampier Sr clearly has a bright future.
---

Elite60 Middle School Showcase
August 20, 2022
It's not much of a secret that Dampier is a tantalizing prospect. At the tender age of 12 years old, he's already 6'6", can play above the rim, has a solid form on his jump shot and he was a dominant defensive player throughout the event. While he does have great genetics, it's clear that he has work ethic. It's not that often that kids with this size at his age also have the level of skill that he possesses. Dynamite prospect out of Mississippi. Scouting Report by Tony Bruton