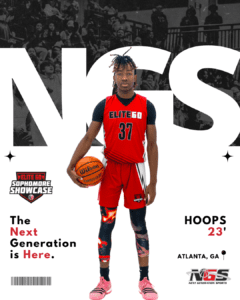 Name

Frank Jackson

Position

Shooting Guard

Class

2026

Height

6'3"

City

Atlanta

State

GA
Frank Jackson| 6'3" SG (GA) Paideia High School – 2026
Current Offers: Clayton State
Elite60 Sophomore Showcase
September 3, 2023
Scouting Report by Bilal Benjamin of 1st Love Basketball
Jackson is a 6'3" wing that brought out his smooth versatility at the Elite60 Sophomore showcase. Being able to score the ball at multiple levels, Jackson used that to his advantage and made it a huge task for guys to contain him. He has a smooth mid-range jump shot that he knocked down consistently, he got to the basket at will and even had a few dunks. Jackson's ability to consistently finish around the rim athletically is huge for his game. Defensively, Jackson is a game changer with his long arms, athleticism and defensive awareness that shows in his movements. He defends with pure confidence and takes pride in getting stops.

---
Elite60 Freshman Showcase
September 24, 2022
Frank had an outstanding showing at camp and had a spectacular game with some timely buckets in the contest I saw him play. He showed a lot of versatility on both ends of the floor and brought an often unmatched toughness to the court. He often gravitated to the lead-guard spot and initiated the offense throughout the game. He was looking for his shot early and was a threat to score the rock every time he touched the ball. His dribble penetration created a lot of problems for the defense and forced a lot of help leaving open shooters ready for the dish. Frank made the right decisions with the ball in his hands, and often the decision was to call his own number. He made some tough shots off the bounce and was efficient from mid-range. His activity on the glass was also noticeable for the wing player, that flashed a lot of potential.
He often gravitated to the lead-guard spot and initiated the offense throughout the game. by Terry J. Drake of Prep Hoops
---
Jackson lived in the paint at the Elite 60 Freshman Showcase. He was relentless at getting to the cup. Jackson's speed and agility is a problem for opposing guards trying to check him, because of how well he can change directions and stop on a dime. That will translate well into high school for Jackson. He also displayed a solid mid-range jumper. Defensively, Jackson is someone you wouldn't want to be guarding you for the entire game. His physicality can take a toll on smaller guards. by Bilal Benjamin of 1st Love Basketball