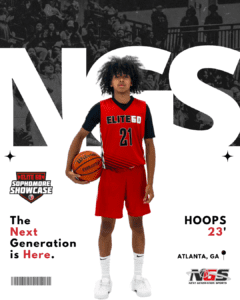 Name

Jacob Zhu

Position

Point Guard

Class

2026

Height

5'10"

City

Alpharetta

State

GA
Jacob Zhu – Devyne Stephens Academy  (GA)
Current Offers: UCF, Mercer
Elite60 Freshman Showcase
September 2, 2023
Scouting Report by Bilal Benjamin of 1st Love Basketball
Zhu simply knows how to play the game of basketball. Overall, Zhu displays a pretty good floor game being able to get whatever he wants out on the court with his quick and shifty ball handling skills, strong downhill attacks, amazing court vision, shooting and his ability to dominate isolation situations. Zhu keeps the game simple and takes advantage of shots given to him from all over the court. A mid-range assassin with acrobatic and ambidextrous finishing skills in traffic. Defensively, he displayed some sharp instincts to cut guys off and he allowed his energy to rub off well on his teammates. 

Scouting Report by Michael Cyprien of Ryze Hoops
Offensively, Jacob did a good job of directing traffic and facilitating. Both in transition and in the halfcourt he consistently got two feet in the paint often and found open teammates. He's also a shooting threat and work both the mid-range and three point line well. I loved what I saw from Jacob defensively. He was really good at the point of attack, using his combo of quick feet and hands to anticipate and cut off ball handlers and create turnovers.
---
ELITE60 Freshman Showcase
September 24, 2022
There weren't any guards that Zhu faced that he didn't score against. He's very crafty with his dribble and never stops attacking the paint. Whenever defenders were able to successfully keep him out the paint, he would bury shots from 25 feet with consistency. Overall, he's a very good young player. Despite being on the smaller side, he rarely committed a turnover and he showed off a very tight handle on the ball regardless of the size of the defender. by Tony Bruton of BucketReel 

---
It has been about a year since I last put ink on Jacob, and oh, what a year has made. He has gotten more explosive off the bounce and easily was one of the top players at the Elite 60 Showcase. He is an up-tempo guard who can score the rock and is also a dynamic playmaker for his teammates. His range is deep, his passing is beyond accurate, and his vision is superb. I left Global Grassroots last year extremely high on Jacob, and from what I saw this weekend, nothing has changed regarding my outlook on his game. Not only does he have intriguing tools, but he also has a lot of tools in his toolbox, and even though he started slow at the camp, when he got it going, all the tools in the toolbox were on display. He continues to be a name that will be talked about amongst the 2026 class and is making his case for being one of the top PGs in the class nationally.  He is an up-tempo guard who can score the rock and is also a dynamic playmaker for his teammates. by Terry Drake of Prep Hoops
---

Zhu may have been the most impressive lead guard at the Elite 60 Freshman Showcase. Zhu had games where he completely controlled the tempo. His shooting was so astounding that his passing went under the radar. Zhu is a small guard that I like to call a Land Rover. The Steph Curry's and Trae Young's of the world. They don't play above the rim, but there isn't a place on the floor they can't score from or get to comfortably. by Bilal Benjamin of 1st Love Basketball