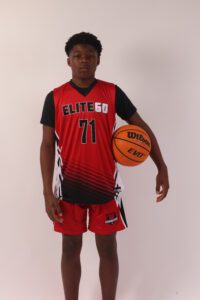 Name

Nasir Anderson

Position

Point Guard

Class

2027

Height

5'10"

City

Savannah

State

GA
ELITE60 Middle School Showcase
August 20, 2022

Nasir Anderson | 6'1" CG (GA) 2027
Scouting Report by Tony Bruton of BucketReel
Anderson started the day off with a deadly crossover that was finished off with a layup through contact. He's a left-handed combo that is in attack mode from start to finish. If he gets a head of steam, you can assume he's either going to score at the basket or drop a nice pass off to a cutter or an open shooter. He's got pretty good size for his position and is only going to get stronger.
Scouting Report by Robert Drew of Hoop Dreams
Nasir is an ultra crafty lefty guard who is most effective in attack mode getting downhill. Nasir already possesses ball handling skills you see from lead guards at the high school level and has the tools to create countless shot opportunities in an effortless fashion at the basket. One of the most polished ball handlers in the event. Nasir really showcased his ability really be a big time scoring threat off the bounce.