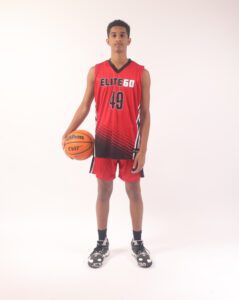 Name

Omari Chaudhry

Position

Guard

Class

2027

Height

6'1"

City

Marietta

State

GA
Omari Chaudhry | PG | 2027 (GA)
LIKELY HIGH SCHOOL: OSBORNE
ELITE60 Middle School Showcase –August 20, 2022
Scouting Report by Tony Bruton of BucketReel
Chaudry probably was the most high school varsity ready guard in attendance. He has great size, skill and basketball acumen. His left handed jump shot is a thing of beauty and he is an adept ball-handler. Against pressure defense, he doesn't get sped up and he creates exceptionally well for himself and for his teammates. It's rare to see players this young who elevate the play of their teammates. He's a primetime point guard prospect.
Scouting Report by Keith Agran of On the Radar
It took all of about 10 minutes for Chaudhry to announce himself as one of, if not the most high school-ready ballers at the Elite60 Showcase.  Chaudhry has a cool calmness about him that is paired with quick and easy decision-making skills.  He could score from every level of the court with floaters and mid-range J's, and he plays extremely well both on and off the ball.  Omari often disrupted the opposing teams plays by defending the passing lanes which generally lead to transition buckets.   It will not shock me if Chaudhry plays heavy minutes as a freshman for the 2023-24 season at Osborne High School in Marietta, GA
Scouting Report by Robert Drew of Hoop Dreams
Omari Chaudhry is an effortless scorer who plays with a ton of confidence. His quickness, handles, and ability to shoot off the dribble makes him a tough cover for defenders. Chaudhry has an high IQ of the game and made the right play time after time. Omari is a smooth all around player who will be a name you here of for years to come.
---
Elite60 Freshman Showcase-September 24, 2022
Chaudhry got a glimpse of what facing older and stronger guards will be like once he enters high school and he held his own! He was a true floor general throwing some of the best passes of the entire Elite 60 Freshman Showcase. The 8th grader let it be known he can make players better if they run the floor, cut to the basket and get to their spots. When the defense looked to take away passing lanes, Chaudhry proved to be a scorer when he needed to be. by Bilal Benjamin of 1st Love Basketball