Bilal's Prime Performers (Rumble In The Peachstate – Part 1)
The Rumble In The Peachstate lived up to the hype. I was taken away by how ecstatic teams were that advanced and by how devastated teams were that took Ls. This is the premier southeast event for the travel basketball season and it showed in the play, the coaching, the officiating and the cheering. The Rumble is one of a kind.
---
Jani Vanholten | 6'2" | Carolina Kings | 2023
Unsigned senior has the tools to impact a program at the next level immediately. Vanholten shifted through defenses and lived in the restricted area. He finished at the basket with acrobatic finishes. Along with his superb scoring ability, Vanholten had some instinctive lobs to his bigs that shifted momentum in his teams favor. He's a multidimensional guard that plays at a good pace.
Anthony Isaac | 6'7" | NJ Elite | 2023
Isaac was the most dominant player at the Rumble In The Peachstate. He had a 44 point explosion where he displayed an offensive master class. Isaac's ability to finish plays is something coaches at the next level carve to have in a wing player. His assertiveness and desire to crash the glass opened up opportunities for his guards to operate. Isaac's sheer athleticism, defensive prowess and overall basketball IQ alone makes him one of the best available 2023's.
JP Dickerson | 6'3" | NJ Elite | 2023
The jersey native plays with high energy and intensity. He has a plethora of countermoves in his bag that he threw at defenders when the got too aggressive while guarding him. Dickerson played the passing lanes exceptionally well and continuously turned defense into offense for New Jersey Elite. The southpaw guard plays above the rim and can make plays for others if needed. Dickerson just committed to Springfield College.
---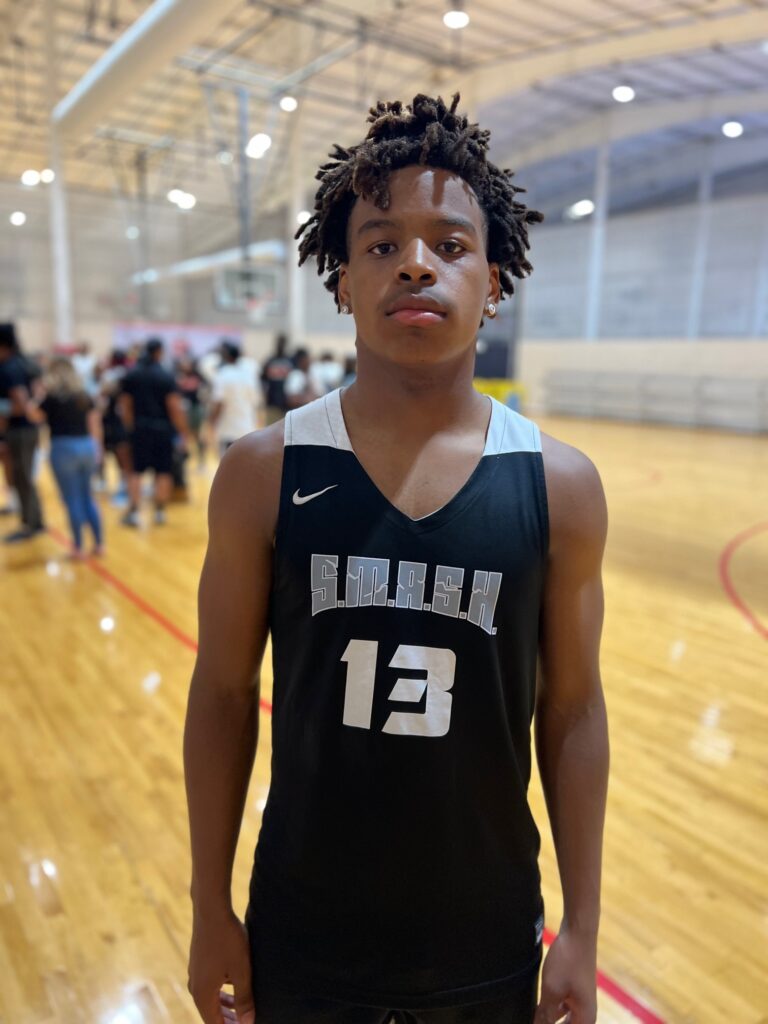 Michael White | 6'3" | Team Smash HGSL | 2024
White's game is smooth as it gets. He weaves through the seams of the defense as well as any guard in Georgia's class of 2024. His keen approach to scoring the basketball is exceptional. White led Team Smash HGSL to the varsity championship. He's been thriving with this group of guys throughout the spring and I didn't see any sign of them slowing down. White's is incredible at putting the ball in the basket. Even better leader.
---
Bryce Dawson | 6'5" | Tricity Elite | 2025
Dawson is one half two headed monster Tricity Elite has on the wing. He's an advanced three level scorer that has two additional high school seasons to polish his game even more. Dawson could be one of the most explosive scorers in Georgia over this two year span. He has a pure knack for putting the ball in the basket. He's never rattled and has a unique next play mentality. He's on my watchlist!
---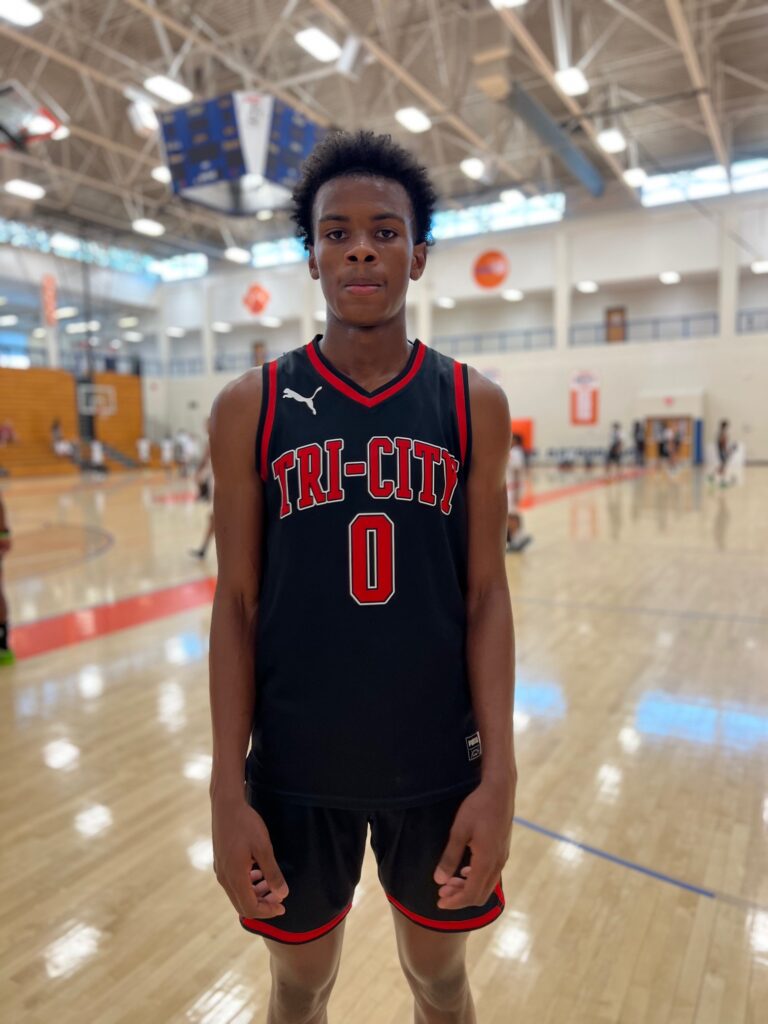 Jacoby Hill | 6'4" | Tricity Elite | 2025
Hill is the other half of the two headed monster for Tricity Elite on the wing. His leaping ability is on another level. He jumps and it seems as if he's gliding through the air. Hill has two-way wing capabilities that he showed flashes of throughout the Rumble In The Peachstate. He has one of the quickest first steps I've witnessed this spring. Hill's athletic aptitude is going to have coaches placing him higher and higher on their recruiting board.
---
Alex Young | 6'5" | Norcross Heat | 2025
Young is Mr. Versatile for this Norcross Heat squad. He can fill it up from inside or outside. Spot up or off the dribble, Young is a threat. With the remarkable footwork Young possesses he's able to get shots off when balanced or unbalanced. He's a wonderful talent that has two more years to hone in on his craft before he reaches the next level.
---
Elijah Milliner | 6'4" | Norcross Heat | 2025
Milliner is a lengthy wing with a bright future. He plays hard and takes what the defense gives him. He has a sweet pull up jumper. Milliner ran the floor with purpose and didn't take fast break opportunities for granted. His high energy rubbed off on his team and for good reason. Norcross Heat made it to the championship.
---
Tayden Ware | 6'6" | Norcross Heat | 2025
Ware is a solid forward that can put the ball on the floor and finish at the rim with the best of them. He would not be denied when it came to getting to the basket. Ware operated from the wings and foul line which gave his team multiple offensive sets to be effective out of. His versatility will bode well for his high school career.
---
Sean Alicea | 6'0" | Young Kings | 2026
Alicea's game has grown tremendously over the past year. He's always been a capable shooter, but now if you leave him open you might find yourself on the bench. His shooting is that lethal. In addition to his marksmanship from deep, Alicea got to the rim at will with limited dribbles. He slashed through defenses and make huge plays in the paint at the Rumble In The Peach State. Rest assure Alicea will be a tough cover for years to come.
---
Khalil Sylla | 5'11" | AE5 | 2026
The fiery lead guard plays with passion and assertiveness. With his speed and quickness it was impossible for opposing guards to keep him out of the paint. He basically lived there and if the shot wasn't there that he wanted, Sylla kicked it out to his shooters when the defense collapsed on him. His basketball IQ is where it should be for a guard. Not to mention his defense is superb. Excellent shot blocking guard.
---
Andrew Taylor III | 5'9" | Atlanta Kings | 2026
Taylor III continues to cement himself as one of the best lead guards in Georgia's class of 2026. I can't say enough about his leadership. It starts with the confidence he gives his teammates even if they're having an off game, Taylor III is constantly encouraging. His ball handling keeps defenders shifting and allows him to get anywhere on the floor. Taylor III makes plays out of nothing, which is a special quality to have seeing how easily plays back down in basketball.
---
Frank Jackson | 6'3" | Atlanta Kings | 2026
Jackson impacted the game on both ends of the floor, per usual. His offensive and defensive awareness is a noteworthy trait. Jackson often defends the toughest assignment and still puts up his fair share of buckets. He has a high motor  that tends to give his team an edge, especially when his in the open floor. Jackson has been a prospect I've been extremely high on and I will continue to be, because he flat out wants it.