Eagles Landings Pulled out a Close 58 to 55 Battle Against St. Pius
Eagles Landing (McDonough, GA)
This game had a playoff feel to it from the beginning. 2023 Mercer commit David Thomas #15 and 2023 Khylan McKennie #24 finished with 16 points a piece and made game winning plays down the stretch to secure the victory for Eagles Landing. Thomas operated from the wings to the foul line and used his mid-range jumper to perfection. He's a big guard who likes to post up smaller players and put pressure on the defense to collapse on him, as Thomas is a willing and solid passer. His low-mid post presence opened up the game for McKennie's slashing ability. McKennie is a player that is looking to attack downhill and finish at the rim. The amount of paint touches he was able to get, along with finishing through contact on a 6'9" big man stood out most to me. McKennie used his body and acrobatic moves to finish through the tough contact and help propel his team to win. Eagles Landing remains undefeated as they're scheduled to take on Warner Robins in another tough environment on the road. This team is battle tested and hungry. They're ready for any challenge.
---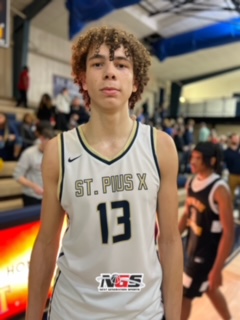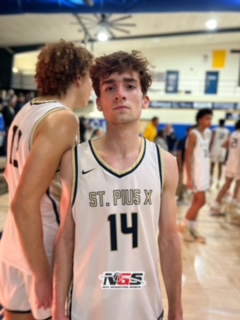 St. Pius (Atlanta, GA)
St. Pius is a well coached, patient and unselfish ball club. Led by their senior big man Spencer Elliott, who is committed to Tulane and senior guard Hampden Sydney commit Blake Wilson.
Elliot is a force to be reckoned with in the middle. He's a finesse and agile big man that brings the physicality and can bang down low. Elliott finished with 14 points, 10 rebounds and 5 blocks. The blocks and his defensive presence were the factors in keeping St. Pius in the game. He contests without fouling and brings the energy St. Pius needs to compete.
Wilson is a true combo guard that can flat out score. He can do a little bit of everything, but scoring the ball is his strength. Wilson had key buckets in this back and forth battle. He finished with 13 points.
Bilal Benjamin is a professional journalist and basketball scout. Benjamin has evaluated some of the best in grassroots on circuits such as MADE and Marqee Hoops to the Elite Circuits such NIKE EYBL and UAA. Bilal is currently a journalist for the NBA G-League, and an evaluator for Pangos All-American Camp and Hoop Group. Benjamin is also founder and chief journalist of 1st Love Basketball and creator of The Basketball Journal. Bilal can be followed on Instagram @1stlove.b and Twitter @1stloveb