SUMMER SLAM EVALUATIONS LIVE part 2 by Shaquan Worthy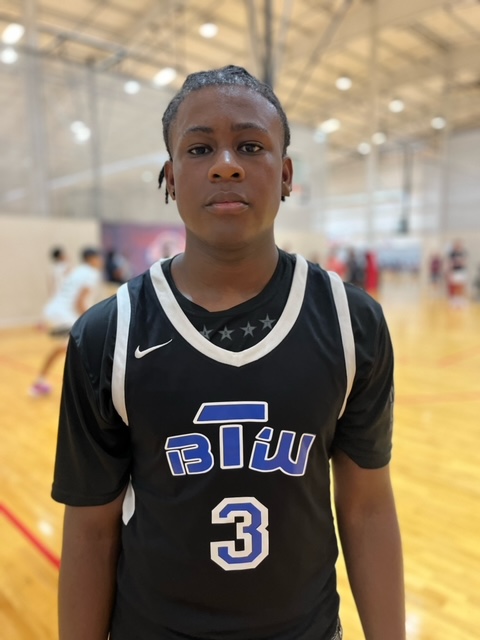 Caleb Godwin | 5'11 | 2025 Born To Win
Every team needs a leader that's not afraid to lead when times get tough, not afraid to take and make big shots and that's willing to do whatever it takes to get a victory. That was Godwin's entire approach to leading his Born To Win squad. Godwin is an outside shooting threat that showed exceptional footwork when catching the ball for on the move jump shots or when effectively using shot fakes before knocking down outside shots. Godwin's voice and defensive energy gave numerous sparks to team as he was willing to defend opposing team's best ball handlers or scorers and providing help defense with his quick and active hands.
---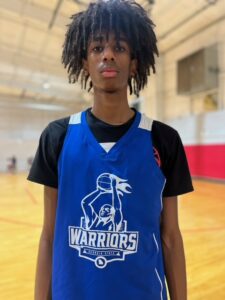 Collin Ross | 6'8 | 2025 GSW
Ross is a really mobile forward that did a lot of things wouldn't show up on a scores sheet. Being the first man to loose ball opportunities, meeting guys at the rim to alter their shot or reject them which he did often and he rebounded the basketball at a high level. Ross has a skinny build with really long arms to go along with good energy and athleticism that he applied well to his game. The hustle plays provided by Ross could be the difference in a blowout game or a close which could be used for a ton of programs at the next level.
---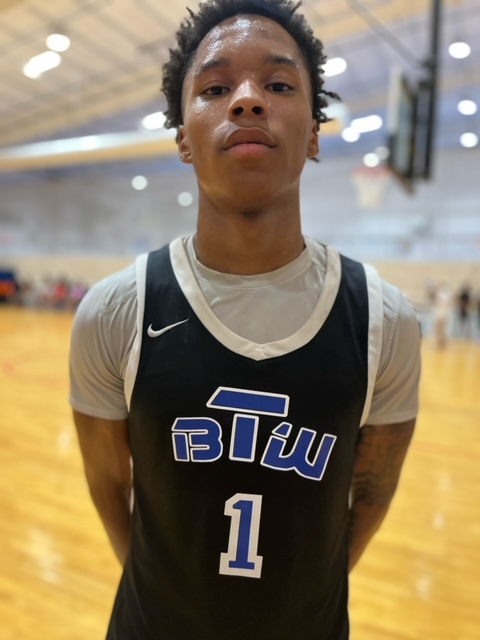 Romie Cosby | 6'0″ | 2025 Born To Win
Cosby continues to show his ability to score the basketball when his team needs him to do so. The 6' guard has no problem excelling at all three levels and using his outside shooting touch to open up the rest of his floor game. Against a good Soo Fresh Supreme squad, Cosby made sure to show up during the clutch moments making some tough floaters around the basket, his stop and pop pull up jump shot and he even made some clutch free throwing working his way to a game high 26pts that led to a victory.
---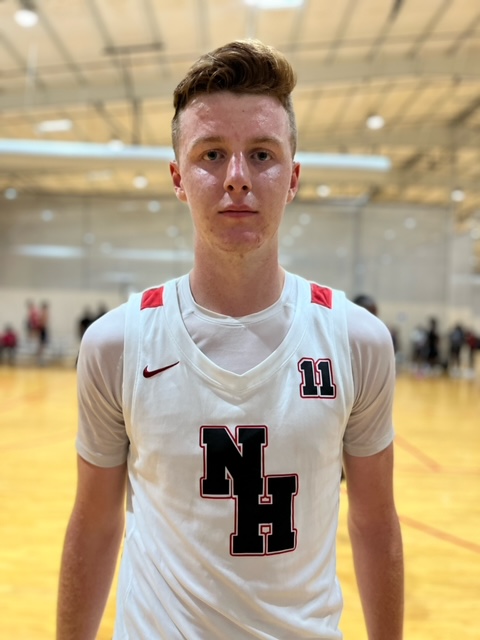 Alexander Young | 6'5 | 2025 Norcross Heat
Having good size with the ability to shoot the basketball the way Alexander Young did is what's keeping guys on the floor in today's game. Young shot the ball extremely well over the weekend whether he was playing on or off ball. He used the triple threat position well before putting the basketball on the floor and effectively used jab step moves to create space for his shots. When Young put the ball on the floor he showed how strong of a ball handler he is and got downhill using his size and athleticism to finish around the rim. When Young couldn't get too deep he showed exceptional footwork to get his shot off in different ways.
---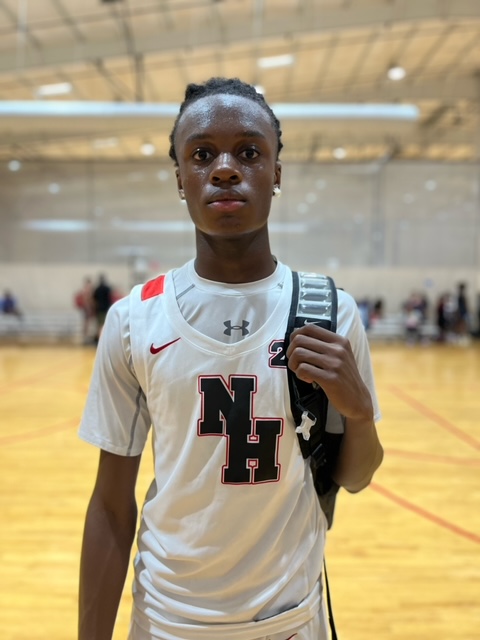 Elijah Millineer | 6'4 | 2025 Norcross Heat
Millineer was another solid prospect in the class of 2025 that shot the ball efficiently over the weekend. One game in particular where Millineer shot the ball well was against TTD Elite as he knocked down five 3s from the outside on his way to 21pts for the game. Millineer didn't force any action and made sure to take high percentage shots in the game. Although he was hot from the outside it was his ability to be able to play within tight spaces to get his shots off specifically from the mid-range area. He has such a smooth shooting stroke to go along with good footwork to be able to shoot off the bounce.
---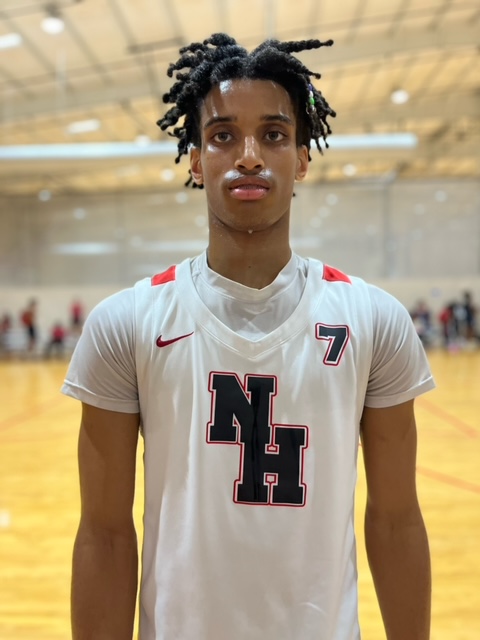 Justyce Sadler 6'6 2025 Norcross Heat
Justyce Sadler is a 6'6 wing that blends well with players like Millineer and Young. Three players complement each other well for what they bring to the table for Norcross Heat. Sadler was at his best when playing off the ball spotting up for open looks or slashing to the basket for strong finishes inside. A really athletic kid that will look to dunk everything with the right steps to do so. While Sadler was at his best off the ball, he also showed his ability to create for himself when the ball was in his hands. Using a few dribble moves to get by and getting what he wanted. His aggression to get to the basket kept him at the charity stripe where he shot the ball well. Defensively, Sadler provided so strong weak side blocks and was a strong on ball defender defending positions 2-5.
---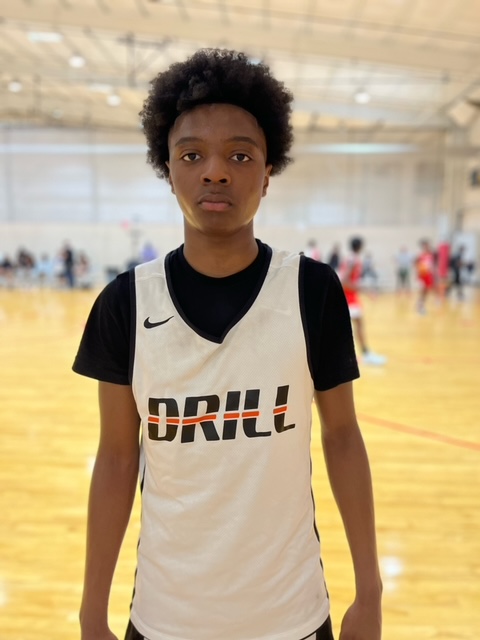 Mario Hill 5'10 2025 Drill Academy
Every team needs a point guard that can run a team under pressure and that's exactly what Hill did. Controlled the pace of the game, utilized his stringy ball handling to get by defenders, finished well in traffic and made plays for other all game long. Hill finished with a team high 13pts while leading his team to a massive comeback victory over SBC. His continuous pressure on defenders was the turning point in his team's success offensively.
---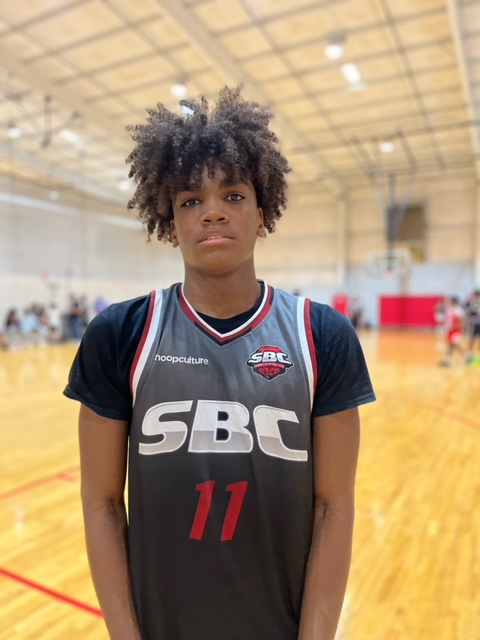 Taj McLeod 6'6′ 2025 SBC
Hustle players are always needed for a successful team and that's exactly what McLeod provided for SBC. From chasing down loose ball opportunities to snatching down rebounds or making chase down blocks which he did numerous times. His quick leaping ability allowed him to get multiple blocks in one possession. McLeod also had a strong offensive put-back layup that sealed the game for his team followed by a huge block that completely sealed it.
---
Caleb McDougald 6'0" 2025 SBC
Being a tough shot maker isn't an easy thing to do but on opening night of the Summer Slam tournament, McDougald most certainly made it look easy. The southpaw guard used his body well to shield off defenders before using a strong move to create space and knocking down tough three points shots. McDougald totaled four triples in a tough loss but his off the bounce game stood out early on. McDougald also made some strong finishes around the basket when he attacked poor close outs.
---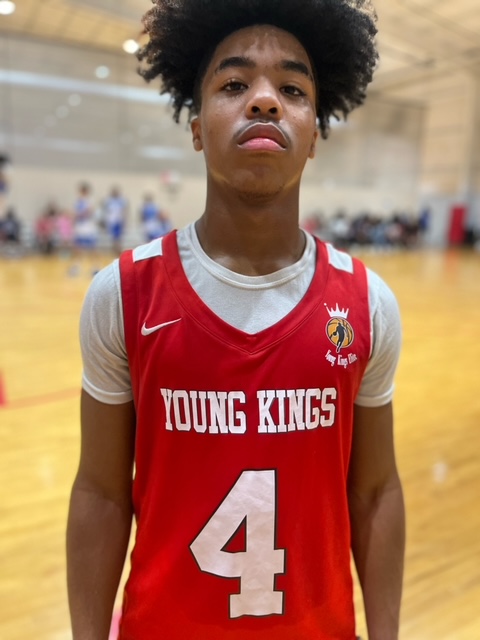 Adian Grady | 5'8 | 2026 Young Kings Elite
Grady made sure to bring his a-game against a solid Atlanta Kings squad. Showing his ability to knock down shots from the outside early on opened the game up for his teammates. Grady's hot shooting kept Young Kings Elite afloat as they found their overall rhythm. The 5'8 point guard controlled the tempo with a tight handle that he used to setup teammates and getting himself downhill for his smooth floaters. Defensively, Grady was a pest on ball and came away with some key steals with his quick and active hands.
---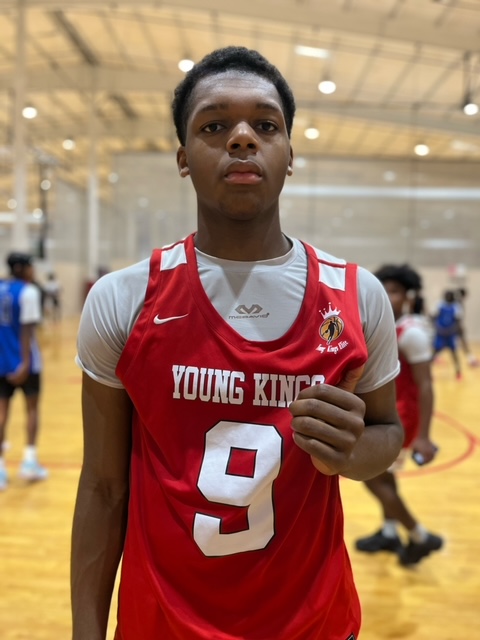 Gideon Kamuelyu 6'5 2026 Young Kings Elite
Kamuelyu, the 6'5 strong, athletic, hardworking forward owned the boards against the ATL Kings. Skying high for rebounds, showing a ton of grit and finishing strong in traffic and through contact. The aggression that Kamuelyu brought to the table caused for him to be fouled when going up for lay-ups. On fast breaks, the lefty ran the floor hard and also showed his ability to make some strong kick out passes when defenders stepped in front of him to take charges. His motor will definitely play a huge part in his career moving forward.
---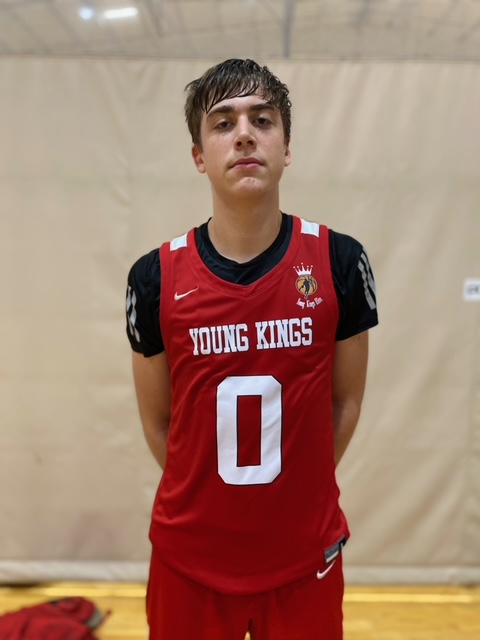 Banks Pourchier | 6'7 | 2026 Young Kings Elite
Pourchier was easily one of the most intriguing forwards in attendance at the Summer Slam tournament. The 6'7 class of 2026 forward showed his ability to thrive well out of the mid to low post area. He showed great patience when going to work, passed well out of double teams and attacked them when it was to his advantage as well. His go to move was his spin move where he showed pretty good footwork before finishing after doing so. Pourchier also displayed a nice soft touch from the mid-range area while also being able to step out and hit some outside shots as well. Defensively, Pourchier did a good job at own the paint. Moving his feet well when hedging out or defending guards on the perimeter and altering shots at the rim when he contested. Emerging prospect to track moving forward.
---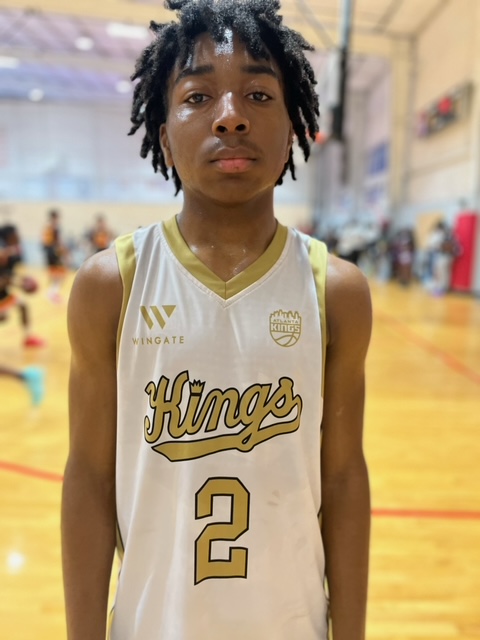 Jalen Kelly | 5'10 | 2026 Atlanta Kings
Kelly had one of the purist jump shots in attendance out of the class of 2026. He shot the ball efficiently from behind the three point and did a good job at attacking poor close out with simple shot fakes, jab moves or his tight handle that he showed more of. Kelly was also a big time playmaker when he attacked close outs and garnering a ton of attention on the court. With superb movement without the ball in his hands which is where Kelly was at his best at allowed him to get open look from deep when guys fell asleep on defense. Kelly might not be the most assertive guard but he's definitely one of the top shooters I've recently watched.
---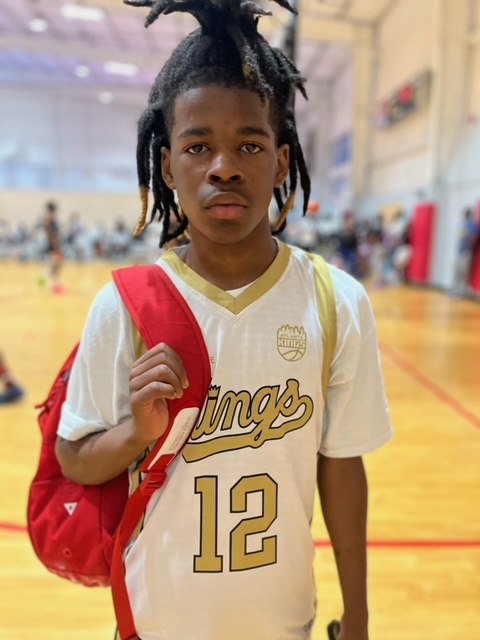 Andrew Taylor | 5'6 | 2026 Atlanta Kings
With the Summer Slam being my second close look at 2026 pure point guard Andrew Taylor it's safe to say he may be one of the best if not the best diminutive guard in GA. Taylor is literally a coach on the court that can do just about everything but loves setting up his teammates for easier looks rather than forcing things himself. He takes good care of the basket, has a nice floater game inside, can knock down open shots, doesn't play with the basketball, not only a good passer but has good court vision and knows how to feed the hot hand. Taylor displays heart over height with his relentless style of play on both ends. Defensively, Taylor has quick and active hands to get steals and deflections. He's an honest on ball defender that knows how to stay in front of the basketball.
---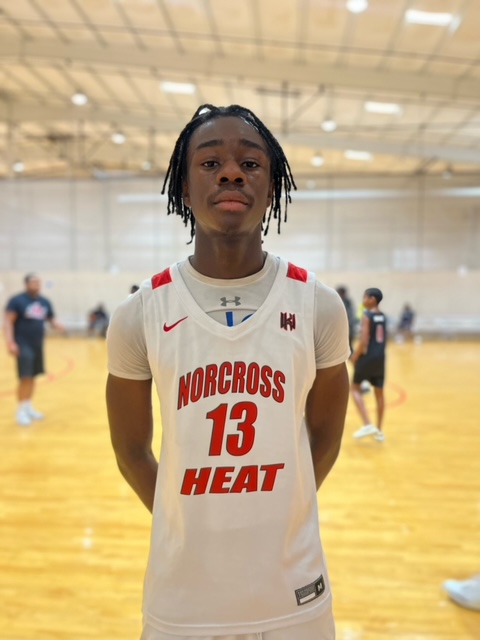 Mekhi Barber 6'2 2026 Norcross Heat
Barber is a two way guard that showed a ton of versatility in the championship game against the Atlanta Strikers. When I first caught Barber it was his ability to get to the basket using 2-3 dribbles but during the championship action it was his shot making from the outside followed by his mid-range game. Barber looked really comfortable shooting the ball from the outside as he knocked down a game high five 3s with 4 of them coming in the second half. Barber also looked really good finishing at the basket with either hand if he didn't get fouled and ending up at the free-throw like. Defensively, Barber used his long arms to deflects passes and getting fast breaks started. He was literally all over the court making it his duty to leave the Summer Slam tournament a winner.